We're passionate about feeding 1,400 hungry children in Zambia
We are working hard to help support 1,400 children at the Needs Care School in Lusaka Zambia. We do that through the 3 Esthers Farm. It's a beautiful 10 acre property just 25 minutes from the school and it's fully dedicated to producing food for the school.
About The 3 Esthers Farm: As we began working on the farm in the fall of 2015 we settled on the name, The 3 Esthers Farm. The 3 Esthers? There was Esther MKandawire in Ngombe; Esther Derr, the Zambian daughter of David and Martha the owners of the farm land; and the third Esther in reference to the scripture verse found in Esther 4:14:
"And who knows but that you have come to your royal position for such a time as this."
In October 2015 we created a Crowd Funding project to raise money to launch the farm. Our goal was $10,000. By December, we had our funding. Esther had planned a budget that would allow us to build a caretaker's house, fence the property, drill a well, and begin setting up crops and animal projects. The 3 Esthers Farm was off to a great start. The farm is 100% dedicated to feeding the hungry children of the Needs Care School. As it grows and prospers, so will they.
Farm Fresh Produce For Hungry Children: Why is the food needed so urgently? Many of the children are HIV Positive and without good nutrition the children won't be able to battle HIV/AIDS effectively. This is why the farm, and farm fresh produce, is so vitally important. It will literally extend children's lives and give them a shot at growing up healthy and well educated.
Sadly, most of the children who attend the school are ONLY eating the one very humble meal each day provided during lunch. They frequently do not get additional food at home. This is what it looks like: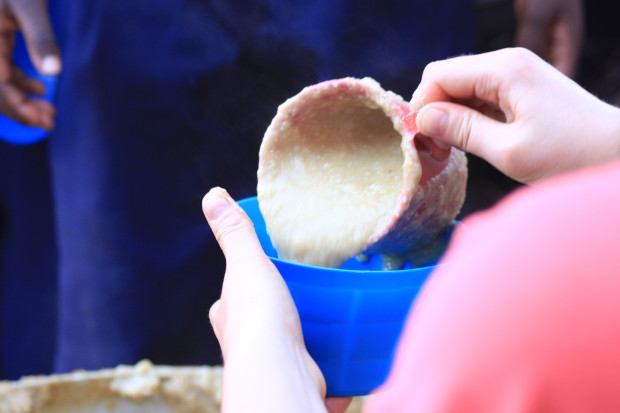 Here is what the farm looks like: 
Join Us And Help Feed The Chidren: To learn more visit our full farm site at www.3esthersfarm.org and consider joining us. The 3 Esthers Farm is a special project of Sew Powerful, so your gifts are tax deductible.
We'd Love To Hear From You
We'd Love To Hear From You